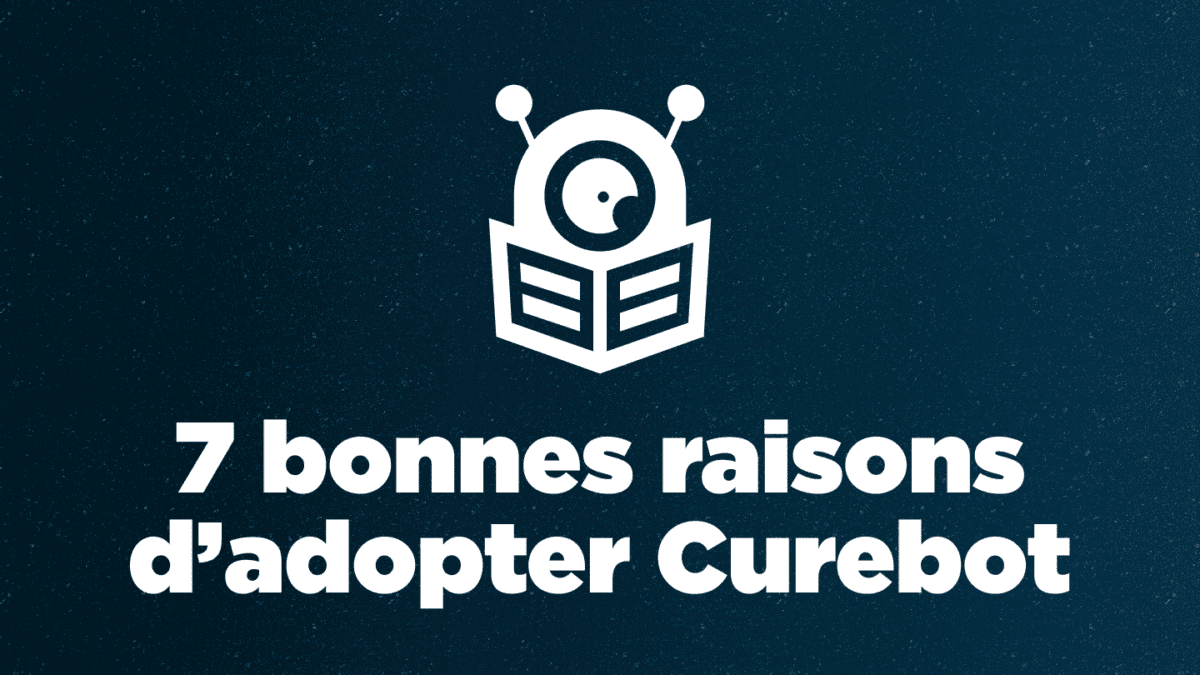 7 good reasons to adopt Curebot for your collective
market intelligence project The word is on everyone's lips today. Keen to move towards greater agility, companies have increased the number of collaborative tools and introduced new ways of working. In this context, it is not surprising that collaborative monitoring projects are on the rise: according to a recent Archimag report, more than one in two monitoring professionals have made collaborative monitoring a priority project.
While their desire to promote these approaches is undeniable, the study highlights that monitoring professionals struggle to engage employees in the long term. In question ? Divergent organizational methods, different codification of information between employees, but also defection of employees over time. Indeed, many contributors become discouraged, tired of the complexity of the platforms offered. As in many digital transformation projects, a poor user experience is often the first source of inertia in a collaborative monitoring process.
Having been involved in these projects for many years, we regularly witness the discouragement of those we support. Too long training times, complex rights management and sharing mechanisms, difficulty in becoming independent in using the platform... these are the main obstacles that our customers share with us. Determined to overcome these difficulties, we decided to develop a different monitoring platform: simple to use, engaging and rich in features. What is the difference with traditional platforms?
1. Its ergonomics: ease of use is yours!
Designed for monitoring professionals, traditional platforms offer a large number of features, which have been stacked over the years to meet new needs expressed by users. This profusion of functionalities (which must be mastered), linked to specialized vocabulary (which must be understood), makes these platforms difficult to understand for non-experts in monitoring.
With Curebot, we wanted to rethink the user experience, to offer an environment that everyone can understand, whether professional or not. So, no, we won't tell you that you just need to log in to understand everything in the blink of an eye. However, in a few minutes, your colleagues will have understood how to navigate, and we are willing to bet that they will also have created their first information feeds. And in two hours of training, they should be autonomous, that is to say able to share resources with their colleagues, create monitoring (monitoring), personalize work spaces (dashboards) and distribution (the newsletters).
2. Its mobility: monitoring and collective intelligence finally within reach
From now on, with Curebot, a salesperson can take advantage of their travel time to consult their monitoring flow directly on their mobile. A watchman can adjust the Good to Print of his newsletter and schedule its distribution from his smartphone. Similarly, someone addicted to Twitter or LinkedIn continues with Curebot an experience that they already appreciate: they can, in a few gestures, share on these platforms a resource detected with Curebot.
Finally, we bet that monitoring facilitators will be rather confident in offering a demonstration or training to their colleagues and managers... mobile in one hand, coffee in the other.
3. Its ingenuity: you will no longer have to choose between monitoring and collaboration
Because Curebot proposes to connect these two uses. On the monitoring side, you will quickly find your bearings to carry out your detection, collection, processing and publication activities. We have tried to streamline certain steps, on the one hand to save you time and on the other hand to allow anyone, regardless of their skills in terms of monitoring or technology, to easily get on board.
On the collaboration side: playing collectively around information is the posture encouraged by default. This means that everyone is encouraged to leave their monitoring, curation or publication area freely accessible to other users. And at the same time, there is no injunction to share: you will always have control over the degree of collaboration and confidentiality that you wish to establish around your work area. Aware that not all monitoring subjects are to be exposed to all eyes and that not all work processes are systematically managed by several people, we plan to let you decide on the level of visibility and control of your actions.
Added to this are features for exploration, subscriptions, group management, promotion and notifications which support decompartmentalization and sharing. With this system, we hope to move in the direction of general access to collective knowledge and create more opportunities for you to collaborate from one team to another.
4. Flexibility: you're free to customize your collaborative watch territories.
If you're a regular user of monitoring platforms, then you've probably already come up against the constraint of roles and rights: a reader who stumbles across a nugget and wishes to share it on the platform won't be able to do so without first requesting a change of rights from the administrator...
When you're in a box, it's hard to get out! So we told ourselves at EspritsCollaboratifs that we'd do without. Here's how it works with Curebot: apart from the administrator, there's just one user profile, who has access to all the platform's functionalities and can create whatever he wants (watches, tags, smart folders, dashboards, newsletters, groups) and manage it with whomever he wants. This means you can be the host-owner of one watch topic, a member-contributor on another and a reader-subscriber on a third. With this freedom of use, Curebot leaves you free to shape your information territory as you see fit, just like a Lego set.
This is our vision of personalization: everyone decides how they act, contribute and consume, on what, with whom and how. Because it's not up to the user to adapt his or her way of working to a tool; it's up to the tool to support the user in these different patterns of use, leaving him or her in control and able to evolve.
5. Its relevance: engage in dialogue and give operational meaning to information
With a view to freeing up usage, we have chosen to offer you a tag system for processing information. No more files, filing plans and the like! Everyone is free to tag information as they see fit. What makes us special? A rather pragmatic tag system, which allows you to index and describe content, but above all to create workflows around the information:
- hashtags, to describe what the article is about (e.g. #google #iot)
- action tags, to indicate that an article is useful for a current project, activity or deliverable (e.g. +newsletter +dev.commercial)
- mention tags, to share the resource with a user or group initiate discussions (e.g. @equipe.marketing; @chloe.martel)
With action and mention tags, information finally takes on an operational meaning: what you collect is assigned to your current work, to your business needs, and is instantly shared with your work network.
6. Its radar: keep an eye on the outside... and the inside
As with any intelligence platform, Curebot enables users to monitor information sources on the Internet (newspapers, specialized sites, social networks, etc.). However, a lot of valuable information also circulates internally, whether in a social network, your intranet, your SharePoints or your various corporate knowledge bases. We think it would be a shame to miss out. We wanted to enable our users to collect resources both externally and internally.
To find out more about this topic, look out for upcoming articles dedicated to exploring existing information with Curebot.
7. His administration: directors freed, delivered!
When we designed Curebot, we also had platform administrators in mind. Our promise? Relieve you of some of your workload, so that you can devote more time to coordinating and promoting the collaborative dimension of your approach.
How? Firstly, by freeing you from the management of user rights, thanks to the unique user profile that allows each user to be autonomous on the platform. No more hours spent managing individual access to monitoring projects.
We've also taken care to provide you with an easy-to-use, attractive administration interface, where you can manage your approach with detailed statistics, provide your organization with source catalogs, and promote cross-functionality thanks to object "highlighting" functionalities.
Last but not least, we are committed to maintaining a transparent relationship with our customers, which is why we provide you with a range of communication channels to help you on a daily basis, and regularly listen to feedback from your users to ensure that the platform evolves to best meet their needs.
And the last good reason is that our team can provide you with the support you need to get your teams moving.
So... we'll talk soon?
Reason no. 1
Ergonomics. It's all about ease of use!
We've rethought the user experience, to offer a tool that everyone can understand.
📱
Reason no. 2
Mobility. Monitoring and collective intelligence at last within thumb's reach.
Functionality and user experience are strictly identical on computer, tablet and mobile.
🪄
Reason no. 3
His ingenuity. You won't have to choose between monitoring and collaboration.
Take advantage of automatic monitoring and team-playing capabilities to boost your productivity.
Reason no. 4
Its flexibility. You are free to manage your watch environments.
Everyone decides how they act, contribute and consume, on what, with whom and how.
🎯
Reason no. 5
Its relevance. Qualify and give meaning to information.
With Curebot, information finally takes on operational and strategic meaning. What you collect is assigned to your jobs, your business needs and is instantly distributed to your network.
Find out more about the qualification > principle
🔊
Reason no. 6
His radar. Keep an eye on the outside and the inside.
Monitor all types of web sources, news or social networks, and the valuable information circulating internally, whether in a CRM, RSE, intranet or your corporate knowledge bases.
More about surveillance >
Reason n°7
Administration. Directors freed, delivered!
You're relieved of your workload, so you can focus on analyzing, coordinating and promoting the collaborative dimension of your approach. You'll be able to manage your approach and promote cross-functionality thanks to dedicated functionalities.